About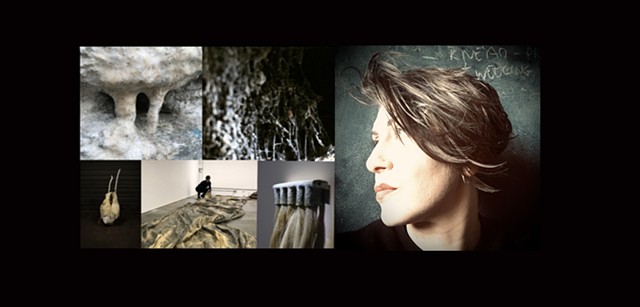 StudioMA_hon
#ceramics #clay #bones #ecology #peformance #bioceramics #movement
Gail Mahon is a creative research practitioner and bioartist focussing on ceramic-bone-mineral interrelationships of both material and movement culture. Her works merge the somatic spaces of health, (kin-)aesthetics, performance, and art as a multidisciplinary practice that seeks to find balance in material alchemy and the transformations between clay + the body + ecology.
Originating and based along the Causeway Coast of Northern Ireland, she works as an independent Arts + Movement Educator, and founder of the collaborative practice-research community CAAKE. Her studio researches connections between bone health, sedentary culture, and climate urgencies that play into the animacy in, of, and through bodies of the Earth with ceramics as the lens with which to vision speculations of our embodied futures.
Strands of interest in bioarchaeology, biomechanics, and bioceramic engineering map the past and contemporary aspects of the social skeletal with our human interaction or physical performance with clay and ceramics, to reveal hidden the material culture shaping our body. The ideas often collage and collect through active processes to become objects, projects, installations, and performances combined into photography, films, and environments. They often compose of elements both hard/soft, plastic/porous, and temporary/permanent states of transformation between anatomy and physiology and the materials used within the works. Insightful curiosity opposes the tensioned dark truths of material agency and plays against the vastness of our awareness of living inside a larger-than-human nature and the role we play in shaping our world.
As an artist, the environments or situations created can be seen as self-archaeology experiments or opportunities to activate a deep nervous system response to the physio-chemistry, biomechanics, and personal transformations embedded in the works. A direct kinaesthetic understanding of forces, bodies-in-locomotion, and bioactive materials of our anatomy as movements that are derived from her practices in natural movement, improvisation, gymnastic forms, and strength training.
Agreeing to the unsettled and ever-evolving multidisciplinary practice has taken time, experience, and patience over a career working in the processes and ecosystems of clay and ceramics. Time to make sense of complex social concerns that permeate both our somatic and spatial architectures, that shape us, our behaviour, our actions, and evidence of our urgent changes to our contemporary skeletons.
Background
A graduate of the Royal College of Art, Master's in Ceramics & Glass, has developed practices through residency or creative response to site-specific locations in the UK, Italy, and Ireland. A close relationship with arts organisation, Art Arcadia, as A-I-R in 2016 and 2018, has supported her approach to exploring scale and performance development. A recipient of a residency at Leitrim Sculpture Centre, 2021, with sound artist Aengus Friel Lawrence, producing Haptic Oscillations film and live performance event for Culture Night 2021. Gail is also currently a board member for ECHO ECHO Dance Theatre Company, a professional dance, and movement company based in Derry City, where she had previously performed as part of their festivals and commissioned projects.
Gail has been an invited speaker and teacher at a number of UK and Ireland universities, Ulster University, NUI Galway, and QUB Belfast, bringing the roles of Artist, Educator, and Cultural Producer together to discuss collaboration as a key transformation in her creative practice.
The founder of the CAAKE project - a collaborative art project in Northern Ireland, moving into CAAKE_Academy as a community-interest-company, which aims to develop collaborative residencies, partnerships, and public participation in workshops and events as adaptive learning situations as a way of bringing LIVING ART + ART OF LIVING together as a vision and practices of nature embedded within our bones and wider relationships to our health ecology. Programmes in public engagement across clay/ceramic arts, local ecology, and natural movement are to be offered through the research community of THE CLAY GYMNASIUM currently in development in 2023.
studioMA_hon // CAAKE_ACADEMY
LIVING ART + ART of LIVING